When you join a live you've not created yourself, you'll first be a watcher.
It means you can speak with everyone in the chat, but you won't be able to start streaming yourself. To start streaming, you'll need to ask to join by raising your hand ✋
How to raise your hand?
1. Hit the hand icon at the bottom-right of your screen

2. Wait for one of the streamers to approve your request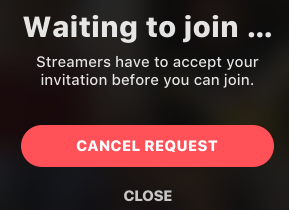 3. Start streaming 🤘
What else?
Sometimes, you'll have to get to know the people in the stream before you can get approved. Be patient and nice, your turn will come 😎